The Malartu Document Reader is one of our most flexible data sources in your arsenal. Using the reader and a few formatting guidelines, you can quickly upload financial data from any Excel, CSV, PDF, JPG, or file type to your account and work with this data to calculate new KPIs.
The main formatting rules for a document to be correctly read in our reader are:
Metric names are present and legible in column A
Row 1 is legible and specifying the date corresponding to any data point.
These are examples of readable files: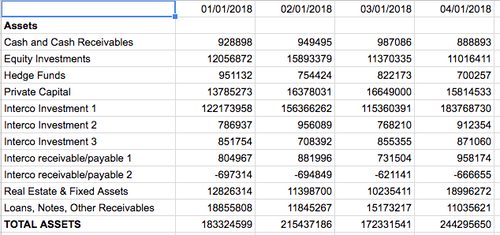 or

An example of an image or file that will not be read is:

This file won't work because the metrics are not organized in a way that clearly articulates which date corresponds to which data point. There are two dates for each metric and it isn't clear if the metric is the row name or within the column.
Mapping New Data from the Reader
Once the document reader has successfully read and pivoted the data from your sheet, you will give each new metric a name for Malartu to reference in the system. This is done by defining User-Defined Metrics.
To create a new metric, go to Data > User Defined Metrics > Create User Defined Metric
Give your new metric a name

Optional: Give your metric a purpose

Set the aggregation: this is the logic that says "if I want to view 3 months of data as 1 quarter, do we sum? take the last data point? take an average? etc."
Click Save
Now you can map the newly created metric to a data point on your mapping screen.
Once all metrics are mapped, click submit and you can work with this data in your dashboards.