Gain Admin Credentials
First, to approve Malartu as a new third-party application, you must have admin credentials to the company file you are connecting to. This is for security reasons. Once you have admin credentials to the file, continue to the next step.
--------------------
Download the Intuit Web Connector
To connect your Quickbooks Desktop data,
First you must download the

Quickbooks Connector from Intuit

. This is how Malartu will read from your Quickbooks Desktop account.

You can find the download link for your respective Quickbooks program here: https://developer.intuit.com/docs/0200_quickbooks_desktop/0100_essentials/quickbooks_web_connector
Once the Web Connector setup file is installed, extract the file, and run the QBWebConnectorInstaller.
Follow the directions provided by the Install Wizard.
Once installed, make sure Quickbooks is running with the correct company file, then login to your Malartu account.
Download the Malartu QWC File
If you manage multiple accounts, first verify that you are in the correct account you'd like to connect to the QuickBooks file. Learn how to switch accounts here.
Go to Data Sources > Quickbooks Desktop > Activate
After you click, Activate you should see a file download titled malartu.qwc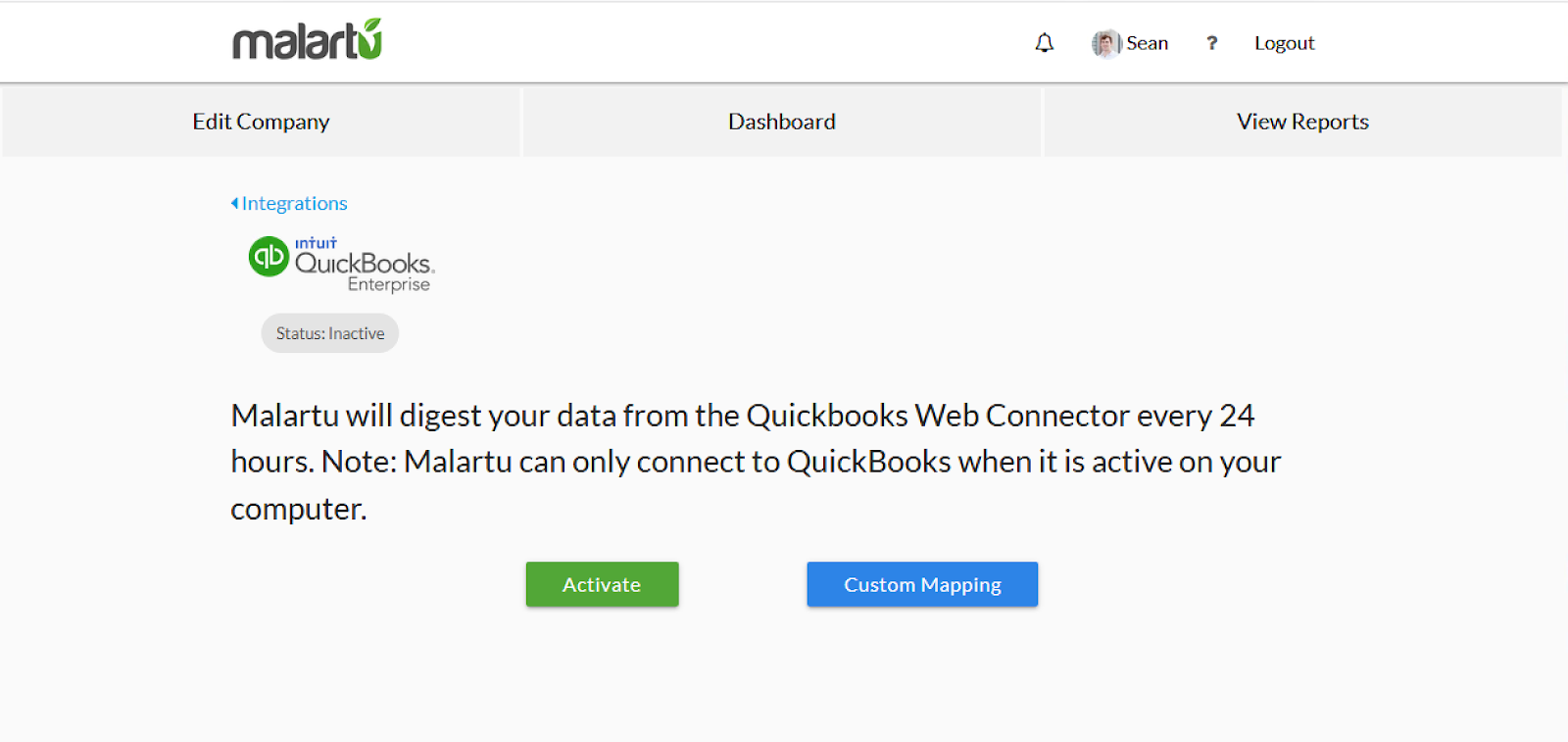 Navigate back to the web connector
Within the web connector, choose "Add an application."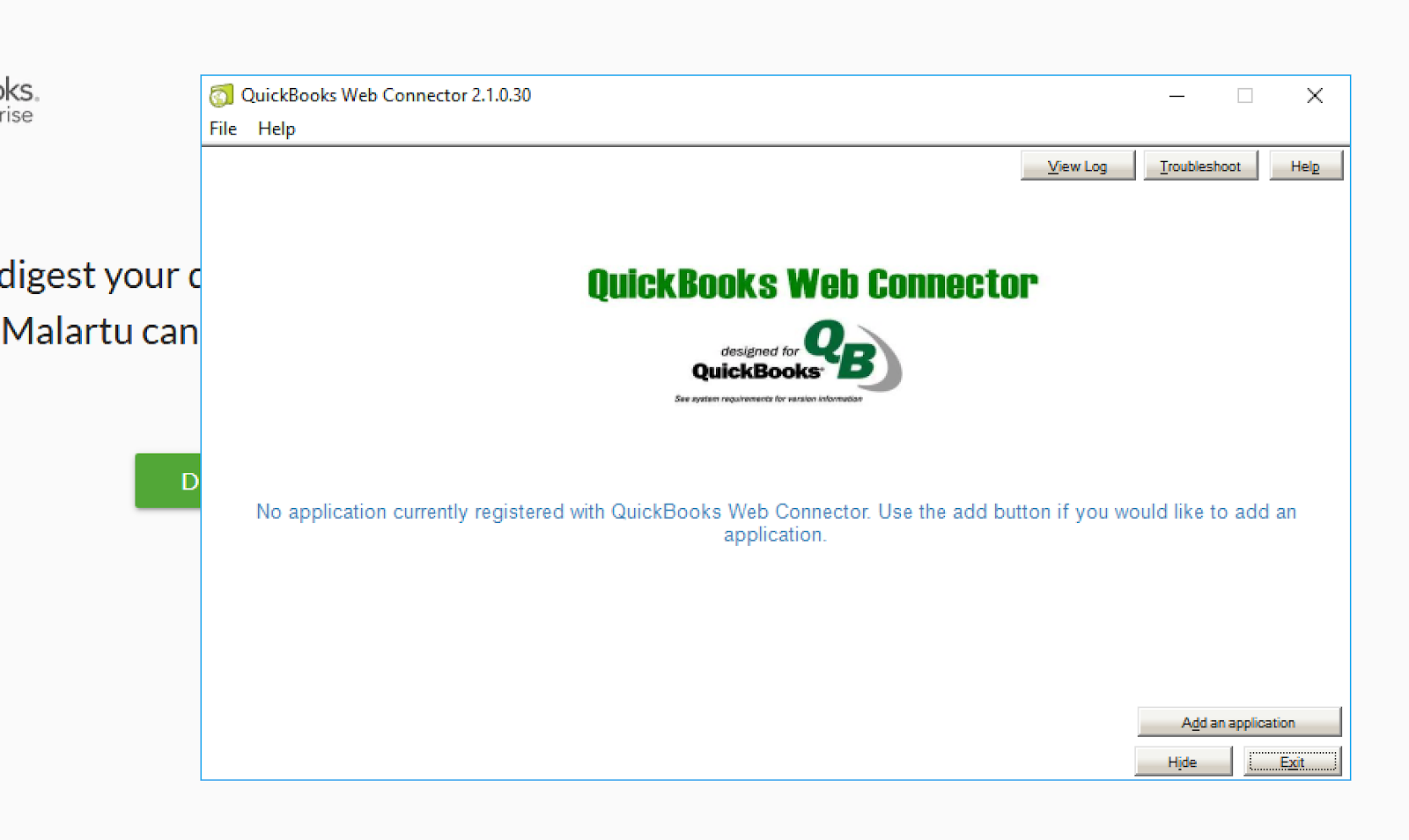 Choose the malartu.qwc file you downloaded from Malartu and click "open"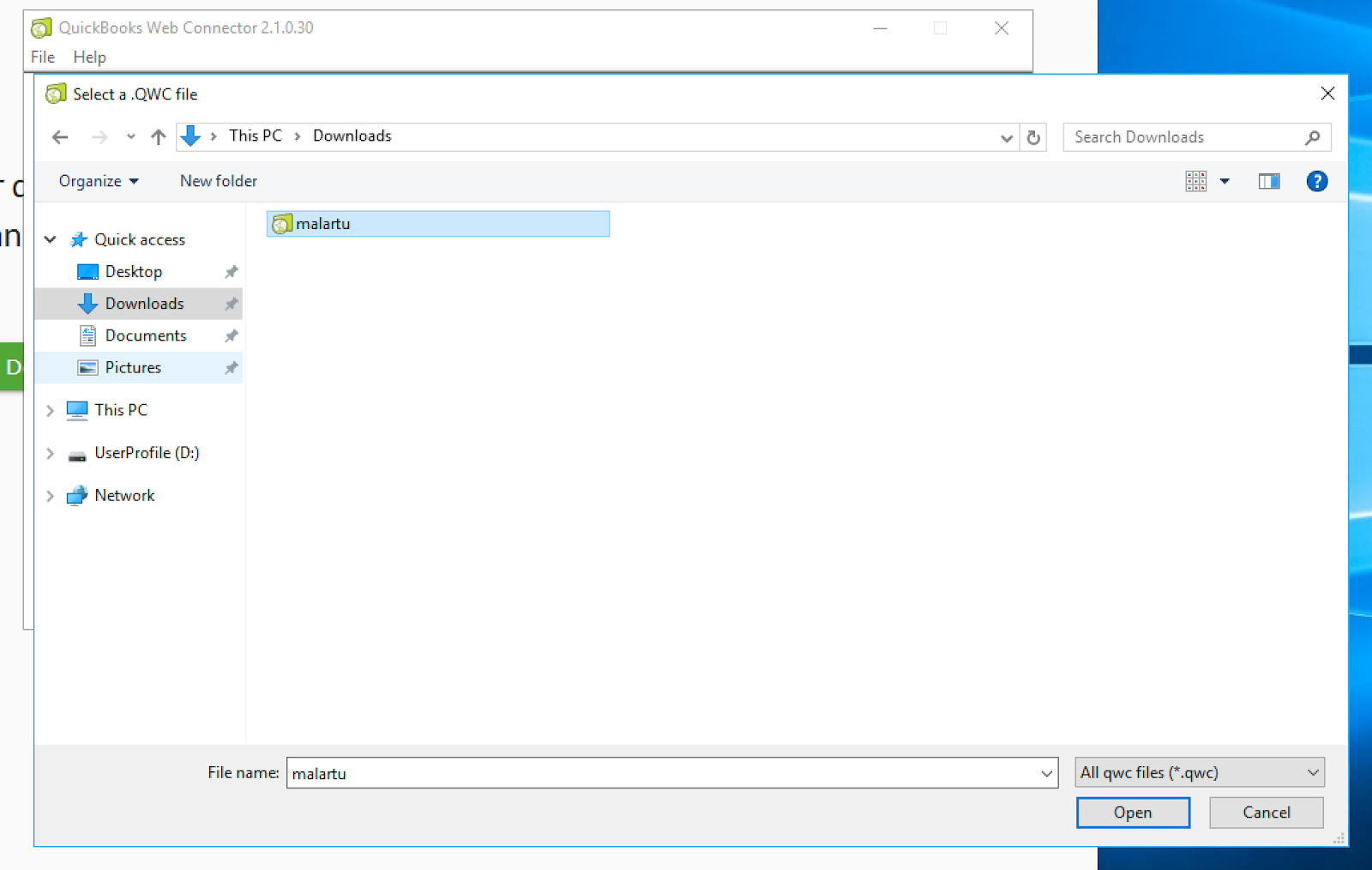 Note: make sure your Quickbooks Desktop program is running and the correct company file is chosen during this setup process, otherwise the Web Connector will not be able to communicate with that file and you will see an error.
You should now see the Quickbooks - Application Certificate. Choose the option that says: "Yes, whenever this QuickBooks company file is open"
This will allow the Web Connector to connect your Quickbooks Desktop data with Malartu. Malartu will never modify the company file, we will only read the data for your analysis (more info on our security page).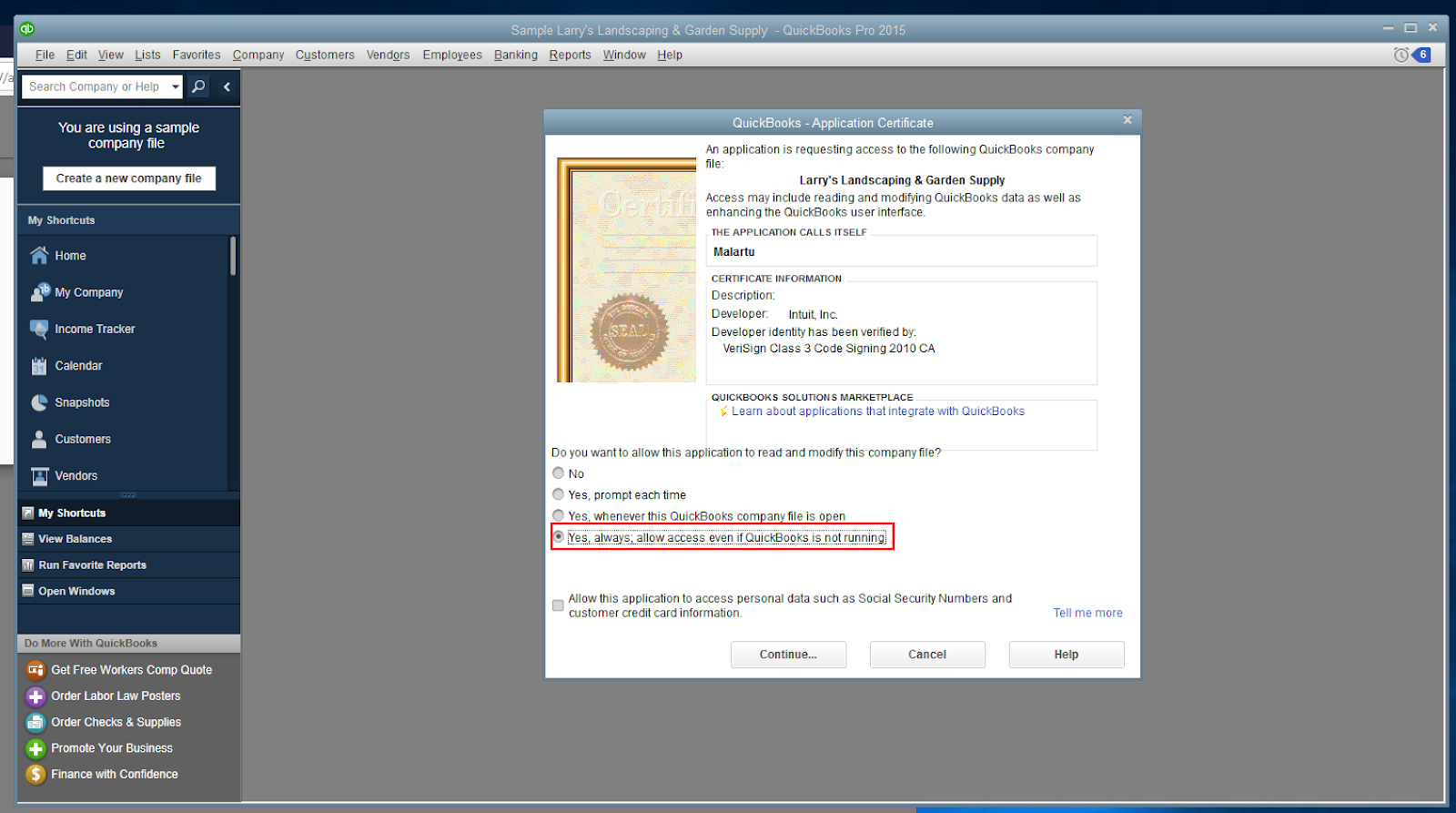 After a successful connection you should see a screen that looks like this: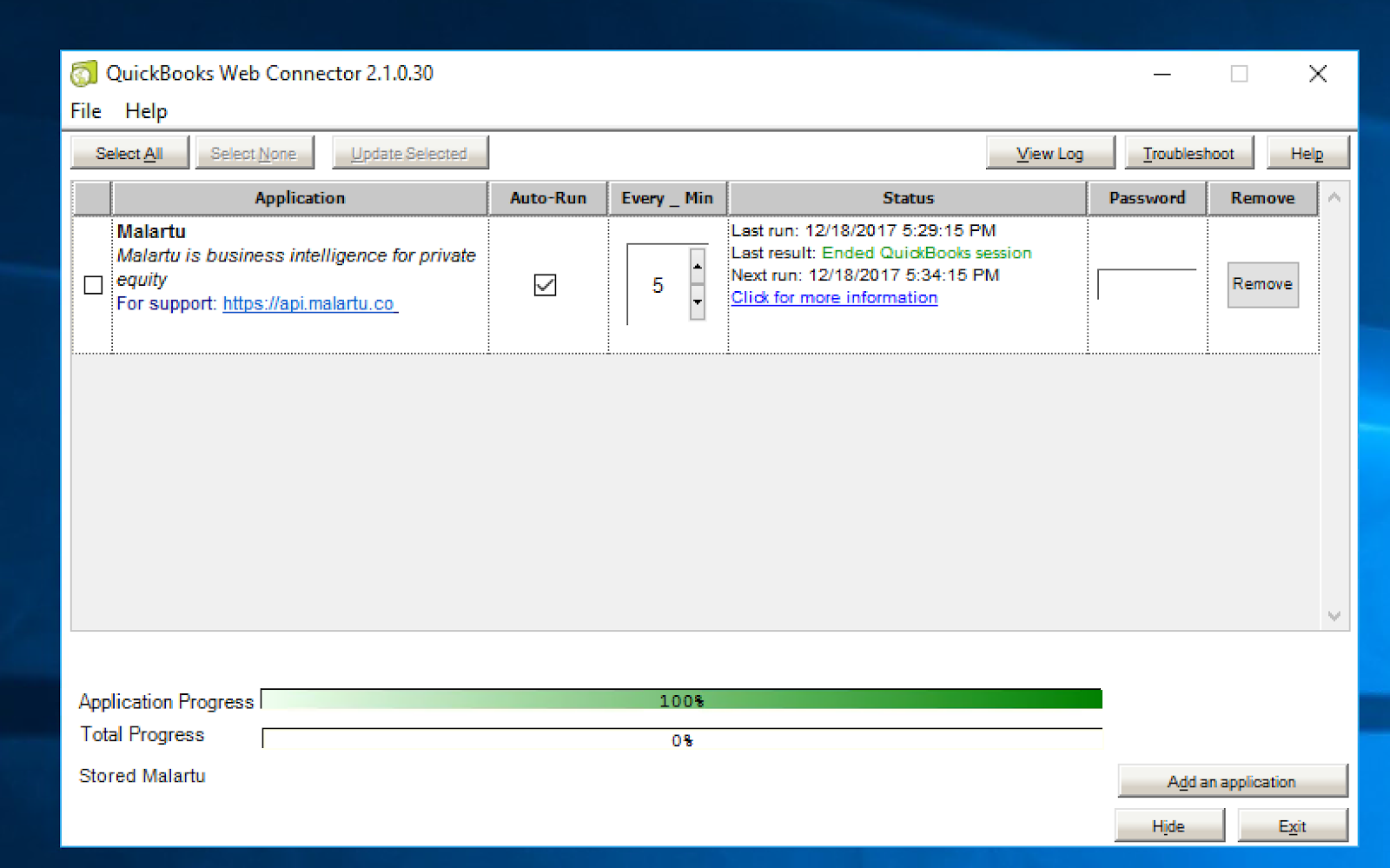 If you'd like to password protect this connection: Check the box next to the Malartu application file in the Web Connector, enter any password of your choosing and click "Update Selected."
Note: This password can be anything of your choice, it is not related to Malartu and will not be used in any Malartu interface. It is only used by Intuit to authorize the Web Connector to run automatically.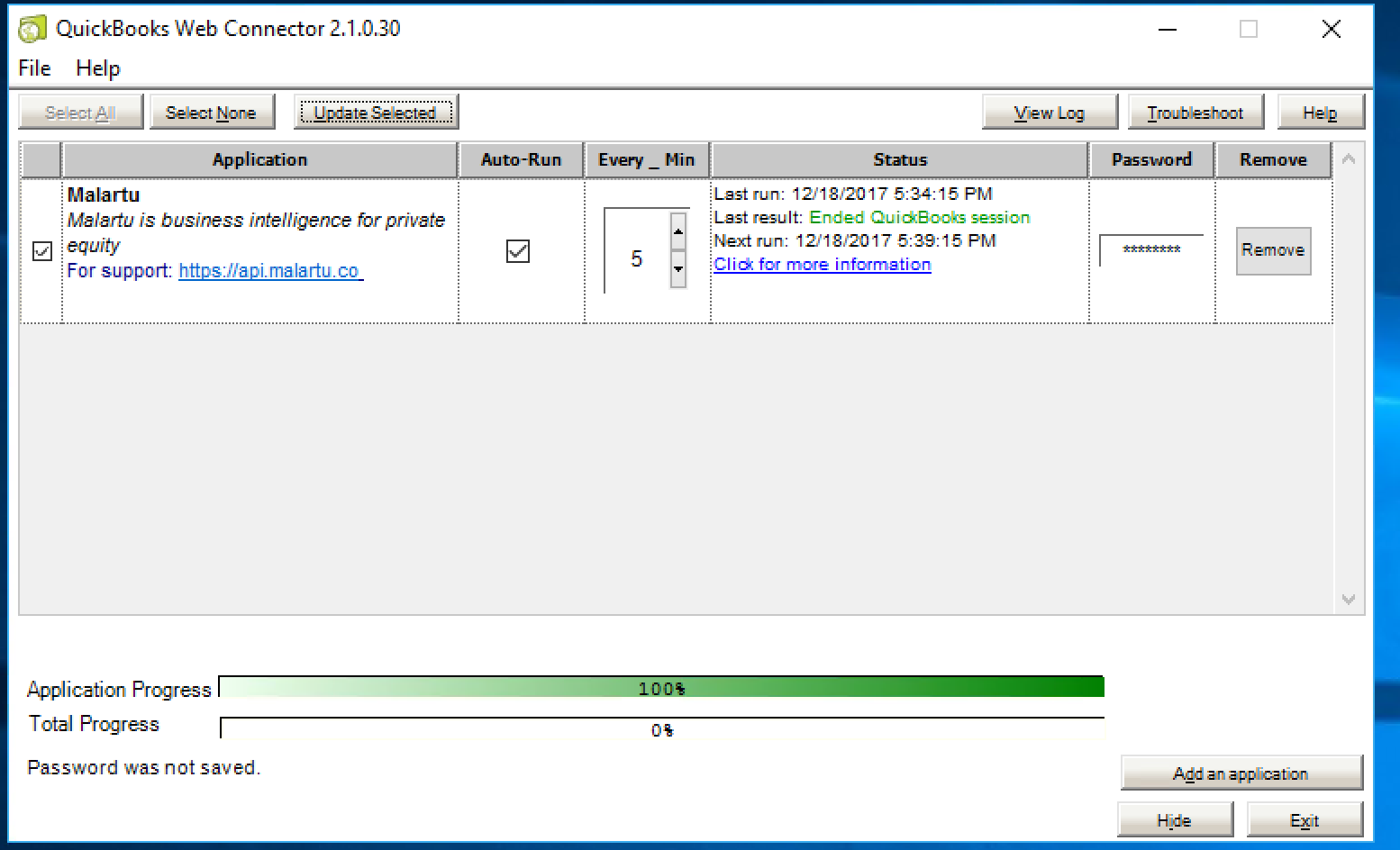 Timing for Data Pulls
You are now connected to Malartu! Data from Quickbooks desktop takes longer than usual applications to load on initial setup. If you do not see data in your Malartu dashboard immediately, no need to worry. Give your web connector an hour or so and you should see 1+ years of data.
Note: Malartu and the Quickbooks Web Connector can only extract data when your machine hosting the Quickbooks file is online. To extract large amounts of data or refresh data at any point, your machine must remain connected to the internet so that the Quickbooks Web Connector can communicate with Malartu through a secure portal.
Connection Complete
Once your data is loaded in, go back to your Malartu account, go to any dashboard, and add a metric from Quickbooks desktop.
If you have any questions about connecting an on-premise Quickbooks account to Malartu, contact us at support@malartu.co. We are excited to assist you!